Miscellany Monday
I had such a delightfully random weekend & so thought this would be the perfect time to jump in to Miscellany Monday for the first time. Thanks Carissa for rounding everyone up each week. It's so much fun!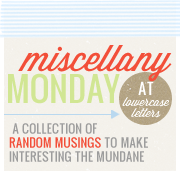 one
.
I went to the Miss Tennessee Pageant on Friday night. It was ... ridiculous -- for several reasons! 1. I was in the front row (literally touching the stage -- close enough to see pantie lines...and lack there of) 2. I had a VIP pass and got snacks and drinks back stage 3. I tried to order myself an adult beverage and even though I am 26, the server went on about how he did not believe me and thought I was trying to get him arrested 4. they make the auditorium freezing cold so that the girls' makeup doesn't melt off. I thought my mom was joking when she told me to bring a blanket (I wish I had listened).
two
.
does anyone know anything or have any opinions about homeopathic medicine? I am trying to avoid being on an antibiotic, and so visited Whole Body and am now putting 5 pellets under my tounge 3 times a day... kind of weird me out, but I think I am noticing a difference. But, I need to learn more about such things & could use your help/advice.
three
. while driving around Memphis, hubs & I spotted this awesome street name...
We love this song by Doc. Watson. It is one of my nicknames David calls me & randomly enough, it is also what is engraved on the back of my ipod.
four

. david & I played in our friends' pool like we were 10-year-olds yesterday & had so much fun. seriously - we had masks on, were doing flips, playing with pool toys, swimming like mermaids. It was a blast -- I never want to grow up.
five
.
last but not least (and a day late) happy father's day. love you daddy!